About Central Library
The Library consists of a Central Library, Branch Library and 8 Departmental Libraries which collectively support teaching, research and extension programmes of the Institute. All students, faculty members of the Institute are entitled to make use of the Library facilities on taking library membership. The Library, besides having a huge collection of books on Arts & science offers library services through its various Divisions. Central Library initially setup in the year 1999.
Mahendra Arts & Science College (Autonomous) Central Library collection of 35369 Volumes of books and 19472 Titles, 553 back volumes of journals, 2298 project reports and 1648 CD/DVD of various branches of arts & science. 52 Periodicals and more than 95000 + E-Books and 6000 National & International Journals through online are being subscribed annually.
Mission
Library serves as a resource center and aims to develop a comprehensive collection of documents useful for Faculty members and students of the institute and provides an efficient dissemination of knowledge.
Vision
The Library is to engage the learning and discovery as essential participants in the educational community. We develop, organize, provide access to and preserve materials to meet the needs of present and future generations of students and scholars. Library intends to incorporate the latest technology and adopts user friendly approach towards students and Faculty. Library offers comprehensive services related to dissemination of knowledge.
Short term goals
To serve the academic needs of all students and faculty members.
To be a center for collection of books and Journals of all related subjects.
To develop a comprehensive collection of information required for teaching and reference purpose.
To acquire, organize Information resources.
To meet the present and future needs of its users.
Long term goal
To Develop a consortium of all Arts & Science College Libraries with resource sharing and networking
Physical Plan
Given below are the approximate floor areas of the Library sections:
Total Floor Area : 7000 Sq.ft
Library – I : 2000 Sq.ft
Library – II : 5000 Sq.ft
Seating Capacity:
Total Seating Capacity : 150
Library – I : 70
Library – II : 80
Library Sections & Services
Circulation
Reference
Periodical
Back volumes
Project Reports
Book bank
Digital library
Reprography
Question bank.
Audio visual
User Awareness Programme
Timings
Monday to Saturday
Working hours : 08.30 am - 06.00 pm
Transaction timings : 09.00 am - 05.00 pm
User Eligibility
LIMITATION FOR BORROWING BOOKS

S. No.

PARTICULARS

BOOKS

DAYS

1

UG Student

3

14 Days

2

PG Students

4

14 Days

3

Research Scholars

5

30 Days

4

Teaching Staff

5

30 Days

5

Non-Teaching Staff and Administrative Staffs

3

30 Days
Automated Services
The working of the central library is fully automated using the Autolib Software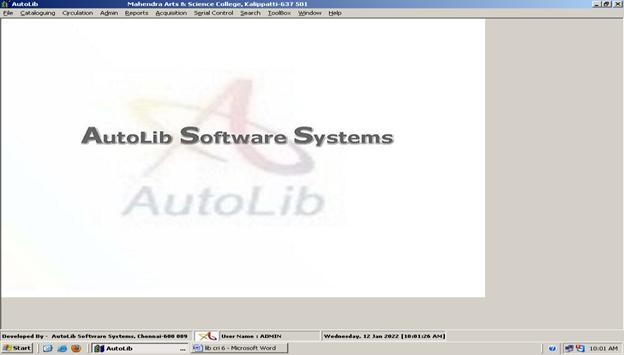 Library Software Main menu
Fully computerized bar-coded circulation service. (Issue, Return and Renewal of books)
Online Public Access Catalogue (OPAC) at the central library and in all department libraries for search of books and other academic materials of the library such as CDs etc.,
On-site use to Textbooks, Reference books Back volumes, Projects and Online journals inside the library.
Reference service (Encyclopedia, Dictionary, Year –books, Handbooks, Exam guides and question papers etc.,)
Digital library with Computer systems for Internet access.
Online access to International journals through INFLIBNET, AND DELNET Collections.
Reprographic (Xerox) Service.
OPAC
Online Public Access Catalogue (OPAC) facilitates online search related to the availability of books, journals and CDs etc. There are more than 40 options for search in OPAC. The system also helps the users to reserve books of interest and borrow. The OPAC facility is also connected to the Department Libraries.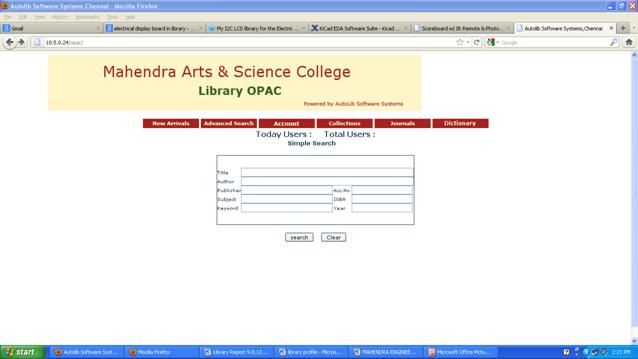 Digital Library
Computer systems are installed in the Digital Library section with Internet access facility. Non-Book Materials such as CDs, DVD's, Floppies and Cassettes acquired / supplied along with the text/ reference books / magazines are also kept in this section. At present 1648 are available.
Mahendra Arts & Science college central library is a member of K-HUB SCIENCE E-LIBRARY, DELNET & INFLIBNET N-LIST for accessing the e-books and e-journal packages through online.
INFLIBNET N-LIST (National Library and Information Services for Scholarly Content)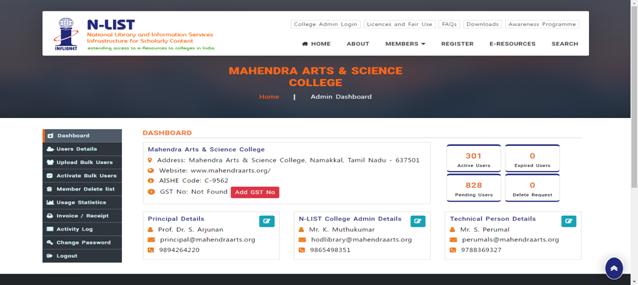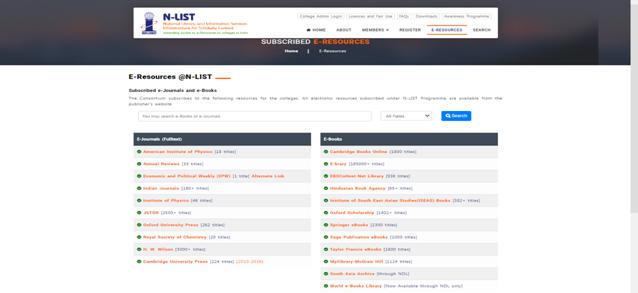 https://nlist.inflibnet.ac.in/veresources.php


INFLIBNET Centre "National Library and Information Services Infrastructure for Scholarly Content (N-LIST)" project provides access to e-resources to students, researchers and faculty from colleges and other beneficiary institutions through server(s) installed at the INFLIBNET Centre.
The Consortium provides current as well as archival access to more than 202102+ and peer-reviewed journals and 10 bibliographic databases from 26 publishers and aggregators in different disciplines. These e-resources covers almost all subject disciplines including arts, humanities, social sciences, physical sciences, chemical Sciences, life sciences, computer sciences, mathematics and statistics, etc
DELNET (DEVELOPING LIBRARY NETWORK)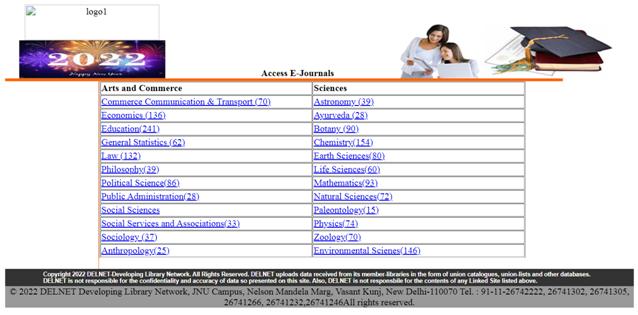 http://164.100.247.26/artsandsciences.html
DELNET has been established with the prime objective of promoting resource sharing among the libraries through the development of a network of libraries.
It aims to collect, store, and disseminate information besides offering computerized services to users, to coordinate efforts for suitable collection development and also to reduce unnecessary duplication wherever possible.
DELNET facilitates efficient and effective searching of information though the various online databases and union catalogues.
This helps the user in making the search pinpointed and specific so that relevant and desired information is retrieved fast.
The member libraries can avail the advantages by sending the list of bibliographical reference of journal articles either online or though E-mail.
K-HUB (Knowledge Hub-A Virtual Library) Infotrack Library Solutions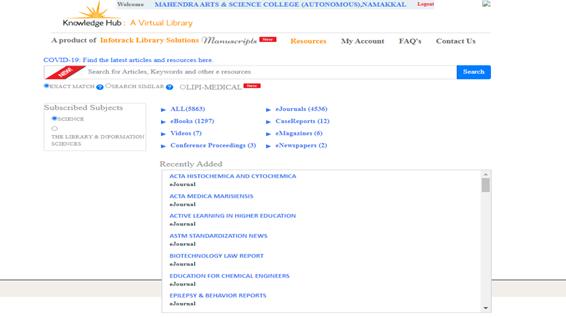 http://www.k-hub.in/NewResources.aspx?id=2
URL : www.k-hub.in
Username : KB4094NKL
Password : 4D65BXp% (case sensitive)
K-HUB SCIENCE E-LIBRARY An extensive compilation of e-resources accessible through a unified platform.
Conclusion
Besides routine services, the online services provided by Mahendra Arts & science College Central Library will help the students and Faculty members of MASC to access and collect uploaded resources / materials through intranet from anywhere within the campus and it will definitely enhance the research, project and educational activities of Institution.
Details of Books:
Number of Volumes: 35369
Number of Titles : 19472
| | | |
| --- | --- | --- |
| Book Category | Volumes | Titles |
| Textbooks | 31525 | 17021 |
| Reference Books | 3844 | 2451 |
| TOTAL | 35369 | 19472 |
Number of Periodicals : 92
Book Bank Books : 550
CD's/DVD's : 1648
Project Reports : 2298
Back Volumes : 553
Newspapers : 11
E -RESOURCES
E-Books : 95000
E-Journals : 6000
MEMBER IN DELNET & INFLIBNET N-LIST
AS ON 24/08/2022
BOOKS DETAILS DEPARTMENT-WISE
| | | | |
| --- | --- | --- | --- |
| S.NO | DISCIPLINES | VOLUMES | TITLES |
| 1 | Tamil | 4799 | 2732 |
| 2 | English | 3429 | 1980 |
| 3 | Commerce | 2556 | 1410 |
| 4 | Mathematics | 1674 | 710 |
| 5 | Statistics | 217 | 102 |
| 6 | Physics | 1674 | 616 |
| 7 | Chemistry | 1836 | 965 |
| 8 | Bio- Technology | 1303 | 915 |
| 9 | Computer Science | 5498 | 2420 |
| 10 | Social Work | 1500 | 785 |
| 11 | GK | 303 | 190 |
| 12 | General English | 6478 | 4478 |
| 13 | Novel | 4075 | 2145 |
| 14 | JMC | 27 | 24 |
| | GRAND TOTAL | 35369 | 19472 |
LIBRARY FACILITIES AVAILABLE
REPROGRAPHIC FACILITY
Library is provided with 2 Photocopy machines. A nominal charge shall be collected for the same.
LOCAL AREA NETWORK FACTILITY
Library is having LAN facility. By using this, Library software can be accessed by the students from the server.
WI-FI NETWORK FACILITY
Our college is having WI-FI NETWORK facility. By using this, availability of books in the library can be known by all users.
INTERNET FACILIT
Library is provided with internet facility at the speed of 8 MBPS.
BOOK BANK FACILITY
Library is having BOOK BANK facility with 1622 volumes to be utilized by SC/ST Students.
AUDIO/VISUAL FACILITY
Library is having a separate section for audio visual facility.
AUTOMATION FACILITY
Library is fully computerized and automated using Autolib Software.
SALIENT FEATURES OF THE LIBRARY
Computerized and Automated library.
Periodical section.
Internet facility.
Local area network and wide area network facility.
Reprography facility.
Binding facility.
Book bank facility.
UPS facility with 10KV.
STATISTICS REPORT
Average number of users per day during last two semesters: 650 Users
Average number of Reference users per day during last two semesters : 47 Users
Average number of Books issued per day during last two semesters : 150 Books
Average number of Periodicals users per day during last two semesters: 150 Users
AS ON 23/08/2022
LIBRARY PHOTOS